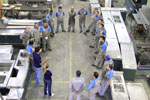 Insureds
We know that without your machinery operating in top condition, you cannot meet the needs of your customers and maintain your excellent reputation.
Learn More
Insurance Carriers and Adjusters
When damaged production machinery needs options and answers, BAMCOR provides solutions.
Learn More
Consultants, Restoration (cleaning) Professionals and other Industry Professionals
When you need a trusted, valued, well respected and experienced loss related machinery rebuilding and repair company.
Learn More
Manufacturing Industry Customers
We rebuild, repair, upgrade, fabricate, install, startup and custom build machinery and equipment for a living. That's all we do.
Learn More